Karen A. Steighner, MBA, President/CEO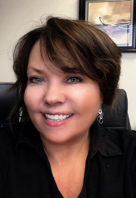 Ms. Steighner has worked in the securities industry in various capacities her entire professional career of more than 30 years and has extensive experience as a C-level compliance official as well as supervising securities and investment banking, investment advisory and investment company activities.   She has extensive knowledge of securities laws as well as broker dealer, adviser, and private & public fund regulations. Recognized for exceptional leadership in securities regulation consulting in an ever-changing regulatory environment, she has demonstrated success in designing customized compliance and supervisory programs for small and mid-sized broker dealers, investment advisers and funds. Ms. Steighner provides executive-level direction and oversight of enterprise-wide audits, risk assessments, investigations and compliance reviews.
Compliance Consultant: In a consulting role she specializes in leading the development and distribution of customized compliance guidance and solutions to members of the securities industry; numerous engagements in oversight of complex sales practice, supervisory, and operational mock examinations development fostering exceptional intuitive and pragmatic fraud analysis and detection skills.
Chief Compliance Officer/CFO: In a Chief Compliance Officer/CFO role, Ms. Steighner has been engaged to lead client companies (broker/dealers, investment advisers and investment companies) by providing expert guidance to senior management regarding effectiveness and integrity of organization's overall compliance program to ensure compliance with company policies and requirements of various regulatory authorities.
Financial & Operations Principal: As a registered Financial & Operations Principal (FinOp), engaged by broker dealer clients to evaluate and maintain firm capital compliance with Exchange Act Rule 15c3-1 and/or reserve computation(s) under Exchange Act Rule 15c3-3;  Analyzes & resolves often complex financial issues unique to broker/ dealers and provides expert guidance regarding compliance with SEC and FINRA Financial Responsibility Rules and Regulations.
Ms. Steighner graduated with an MBA from the University of Colorado Denver School of Business in June , 2014.
She holds Series 7, 63, 24, 27, 65 and 79 registrations.
She is currently a candidate for the Certified Fraud Examiner ("CFE") designation.